Hi-Pro Audio Is Performance Driven Audio
Hi-Pro Audio is a one-stop-shop high-end audio company based in Victoria, Texas, that has been providing high-quality audio sales and installation services for over 30 years. We specialize in car speakers, marine audio, motorcycle speakers & motorsport audio installation services. Our company offers a range of speakers that are waterproof, weather-resistant, and designed to fit perfectly in automobiles, boats, motorcycles, ATVs, and motorhomes. Contact our staff by clicking here if you have any questions!
Crank up the audio in your ride!
At Hi-Pro Audio, audio is more than just our job. It's our lifestyle. We're passionate about creating fully immersive audio experiences for everyone, from beginners to audiophiles. We bring a unique, full-service approach through passion, dedication, and love of all things audio. Whether you want to customize your motorcycle, marine, car, or motorsport sounds, we do it all.
Your music is your choice, so the system it comes out of when you're feeling your best self should be too.
We design every audio system for maximum performance, seamless connectivity, and ease of use. We put your personal style into every design so you can pump up the volume the way you want. Music is life at Hi-Pro Audio. And no one does custom-tailored performance audio installations like us.
Discover your audiophile dreams every mile with the specialists at Hi-Pro Audio today!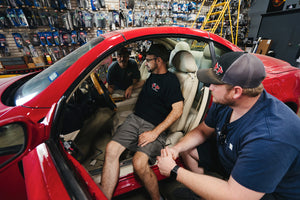 Family & Locally Owned
Hi-Pro Audio is a lifestyle audio shop located in Victoria, TX. We've been in business since 1987, and our goal has always been to provide superior, high-performance audio products and services to our customers. Whether you need your car, boat, or bike outfitted for sound, we can help. Our team of experts will consult with you, design a system that meets your needs, and install it for you so you can enjoy your new audio setup worry-free. We also offer financing options to make getting the audio gear you want easier than ever. Come see us today!
Marine Audio Installation
Need to upgrade your boating experience?
It's time to elevate your boating experience with a brand-new, high-performance boat speakers. We offer audio upgrade services for all types of watercraft and can even install new boat audio system installations on any model!
Our marine audio services include:
Stereo Systems | Bluetooth | LED Lighting | Satellite Radio | NMEA 2000 integration | And more!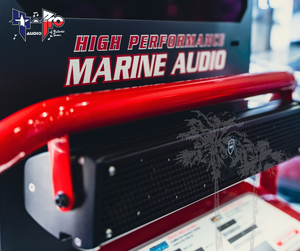 Mobile Audio Services
We bring the audio experience to the ultimate heights inside your ride. With our passionate audiophiles by your side, we design and install high-tech audio systems and speakers on vehicles so you can rock out properly.
Discover the audiophile difference that comes with the pros at Hi-Pro Audio!
Motorsport Audio Services
We are highly familiar with off-road vehicles and golf carts! Depending on the audio system you want, you can be sure we can make it happen. If you want to add more to your vehicle, side-by-side, or more, just give us a call or visit our website to contact us. Your dream audio speakers are waiting and Hi-Pro Audio can make it a reality!
Motorcycle Speaker Services
At Hi-Pro Audio, we love a good challenge! We promise to treat your motorcycle with care and never use power tools near your ride, unless necessary. We want the best motorcycle speakers for you, so that you have the best audio and best ride. Come by the shop or contact us for more information on your project so we can collect specs and get started.